The Waiting Room, Brisbane Nov 22, 2012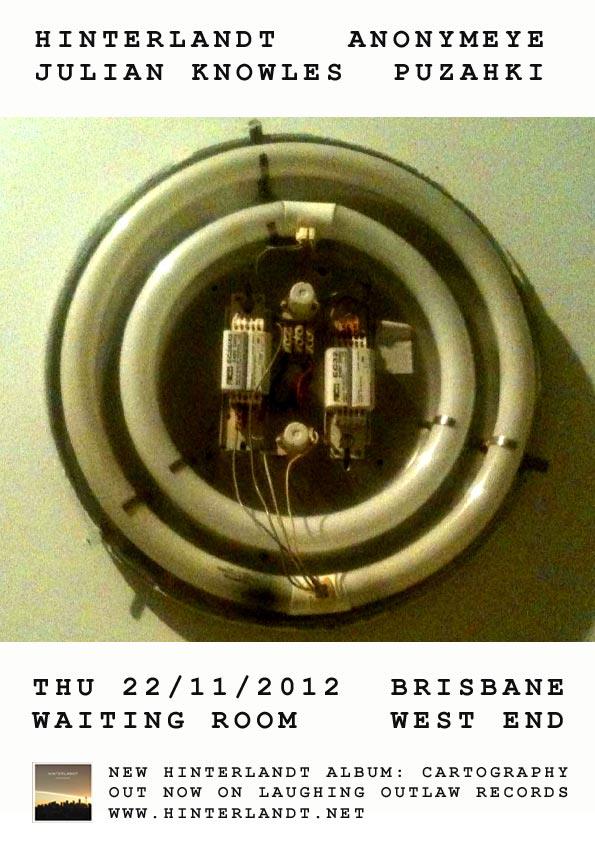 Hinterland + Anonymeye + Julian Knowles + Puzhaki
Join us at The Waiting Room in Brisbane's West End for this diverse show featuring artists from Sydney, Brisbane, and the Gold Coast. Don't miss how four men use four different approaches to create a million unusual sounds – all in one Thursday night.
HINTERLANDT is a Sydney-based solo act juggling numerous instruments, sounds and influences. Hinterlandt has toured internationally and released truckloads of material. In his first-ever Brisbane show, Hinterlandt mastermind Jochen Gutsch presents his brand new album "Cartography" on Laughing Outlaw Records.
Info: http://www.hinterlandt.net/
Listen: http://soundcloud.com/hinterland
ANONYMEYE is the nom de musique of Andrew Tuttle. Anonymeye reconfigures various organic and mechanic musics within a sonic framework akin to an abstract musical Esperanto. Utilising electronic and acoustic instrumentation including acoustic guitar, computer, banjo, and synthesiser, Anonymeye straddles and blurs boundaries between improvisation and composition, experimentation and song-form, and melody and dissonance.
Info: http://www.anonymeye.com/
Listen: http://anonymeye.bandcamp.com/
JULIAN KNOWLES has been creating pretty, ambient electronic noise for 20 years as a solo artist and with the iconic field recording group, Social Interiors. His work crosses every musical boundary possible – experimental, post-rock, ambient, field – and is fuelled by destroyed analog media, guitars and laptops.
Info: http://www.julianknowles.net/
PUZAHKI is the alias of Gold Coast based electronic music producer Craig Parry. Puzahki's preceding reputation lies in breakcore & jungle however his current musical focus is instrumental hiphop and abstract turntablism. He has just released a 7 track EP titled Emergency Exit, has a full length mix album coming out on Ender Records and is about to self release a 3 track split single with Chupi.
Info: http://puzahki.net/
THE WAITING ROOM is a community-minded DIY music and arts space located at 11 Browning Street, West End, Brisbane.
https://www.facebook.com/WaitingRoomBrisbane