Phill Niblock – The Movement of People Working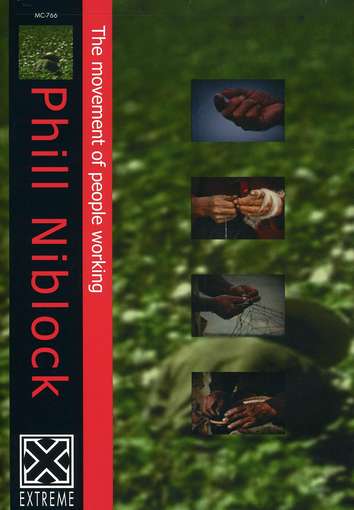 Phill Niblock – The Movement of People Working
Label: Extreme – XDVD 001
Format: Hybrid, DualDisc, NTSC
Country: Australia
Released: 2003
Genre: Classical, Electronic
Style: Drone, Contemporary, Experimental
Produced At – Experimental Intermedia Foundation
Surround Mix: Julian Knowles
DualDisc DVD-Video release gathered films shot by Phill Niblock (Mexico & Peru 1973-74 / Hong-Kong 1978 / Hungary 1985) and works composed by Phill Niblock (1975-83).
Films processed and printed by Joel David at J & D Film Labs, New-York. Transfers to video (Digital Beta) at Gun for hire post, New-York.
Mastered at Moosemastering, Melbourne.
First seven tracks recorded at the Music Department of the State University of New-York, Albany (1975-80).
Scores for According To Guy (Version III) realized on multitrack tape at Experimental Intermedia in New-York.
Multi-zone / Color / NTSC 5.1 / Dolby Surround [3:58] / 4:3.
This is the first DVD release for the Extreme Records label and is a retrospective of the music and films of Phill Niblock, one the the key figures in american minimalism. For this release I re-mixed a range of Phill's work from the 1970s onwards for 5.1 surround. This release was awarded an Honarary Mention in the Digital Musics Category at Ars Electronica.
THE MOVEMENT OF PEOPLE WORKING
"The Movement of People Working" by minimalist composer, film maker and photographer Phill Niblock portrays human labor in its most elementary form. It is the combination of his slowly evolving harmonic music that creates an otherworldly masterpiece.
The films and the music combine elements that seem contradictory, creating tension as a result. Impersonal motion patterns filmed in vibrant 1970s Kodachrome move side by side with glorious sounds that are caused by an acoustic phenomenon.
However, there are striking parallels between the image and sound as well, not because one was made as a companion to the other, but because of correspondences at a deeper level. Both display movements within a larger frame that changes at an exceedingly slow rate, evoking simultaneous sensations of movement and immobility. Both transcend the strictly personal, thereby acquiring extra import. In juxtaposition they can bring about a curiously alert trance-like condition, in which associations have free rein.
In experiencing "The Movement of People Working" you can decide to close your eyes and follow the music – one radiant chord, in which shifts occur continually on various levels; or you can follow the images and push the sound to the back of your mind.
Both are prominently present, and yet they don't force themselves on you. They don't put a compelling claim on your concentration. In much the same way modesty shines through the images themselves: Niblock's camera does not affect the behavior of the people he films; their dignity is left intact.
There is no doubt that DVD is the perfect medium for the film and music of Phill Niblock. There is also no doubt that Niblock has, with the release of "The Movement of People Working", expanded the possibilities of this medium.
PHILL NIBLOCK
Phill Niblock is an intermedia artist using music, film, photography, video and computers. He makes thick, loud drones of music, filled with microtones of instrumental timbres which generate many other tones in the performance space. Simultaneously, he presents films / videos which look at the movement of people working, or computer driven black and white abstract images floating through time. He was born in Indiana in 1933.
Since the mid-60's he has been making music and intermedia performances which have been shown at numerous venues around the world among which: The Museum of Modern Art; The Wadsworth Atheneum; the Kitchen; the Paris Autumn Festival; Palais des Beaux Arts, Brussels; Institute of Contemporary Art, London; Akademie der Kunste, Berlin; ZKM; Carpenter Center for the Visual Arts at Harvard; World Music Institute at Merkin Hall NYC.
Since 1985, he has been the director of the Experimental Intermedia Foundation in New York (www.experimentalintermedia.org) where he has been an artist/member since 1968. He is the producer of Music and Intermedia presentations at EI since 1973 (about 1000 performances) and the curator of EI's XI Records label. In 1993 he was part of the formation of an Experimental Intermedia organization in Gent, Belgium – EI v.z.w. Gent – which supports an artist-in-residence house and installations there.
Phill Niblock's music is available on the XI, Moikai and Touch labels. A DVD of films and music is available on the Extreme label.
Statement by Phill Niblock: In the mid 1960's, I was riding a two stroke, Yamaha motorcycle up a long mountain slope in the Carolinas, stuck behind a diesel engined truck. Both of our throttles were very open, overcoming the force of gravity. Soon, the revolutions of our respective engines came to a nearly harmonic coincidence. But not quite. The strong physical presence of the beats resulting from the two engines running at slightly different frequencies put me in such a trance that I nearly rode off the side of the mountain.